See on Scoop.it – Developmental & Behavioral Challenges in Children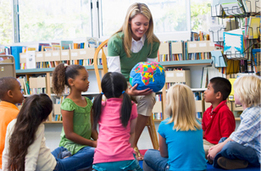 Learn about the practice of "inclusion" in classrooms, and the theory behind how it can benefit students with special needs.
Dr. Pat McGuire's insight:
I find this an interesting read since I was in school before PL42-142 was even a law.  I didn't have interactions in school with students with special needs.  We had levels of classroomsin high school  so that the material could be taught to different levels of learners.  There were some classes where we were intermingled but for hard core academics the schools placed students in the level of difficulty class that they felt they would be most successful in.  The focus was on learning the material, not socialization.
I remember the early push for full inclusion in the 90's as a relatively young developmental pediatrician (I had small kids myself then).  In theory it sounded wonderful.  After working with children within that model for the last 20 years, however, I can say that the needs of many children with special needs were not and are not being met.  One of the biggest barriers is that the regular education teacher has been handed this diverse group of students, ranging from gifted to mild to moderate intellectual disability, along with children experiencing learning problems at different levels of severity without the needed support, both personnel-wise and professional development-wise to have success in "Leaving No Child Behind". Our teachers are drowning in the over the top expectations that have been put on them to meet everyone's need by themselves.
I truly believe that this is one factor in the significant behavioral problems we are seeing even in young children since those who are struggling are not being addressed in a timely and effective manner.  I am aware that there are other factors too for the behavioral problems we are seeing, but create a no win classroom for teacher and student puts significant stress on both.
I have for many years said that for many special needs students, the LRE (least restrictive environment) is not the general education classroom, but a classroom where they can receive the teaching and intervention they need to truly close the academic gap. This article and several others I have read recently say the same thing.
This should be part of the discussion of education reform.  We need to develop educational environments that help all students succeed as best they can, not just the ones who can learn above the chaos.