See on Scoop.it – Developmental & Behavioral Challenges in Children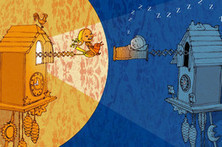 Going to bed at a regular time every night could give your child's brain a boost, recent research shows.
Dr. Pat McGuire's insight:
This is an important new study that looks at many factors that affect children's cognitive (brain thinking) functions.  After taking into account everything from TVs in the room to skipping breakfast, the biggest negative factor on brain development was an inconsistent bed time.  Do you ask why?  It is simple.  Our brains have a rhythm for when we feel tired, when we naturally wake up, when we are hungry, etc.  By altering it too much, we affect the brain's natural growth and development cycle, thus making learning harder for children.
Bottom line, have a set bedtime and stick to it, except for very rare exceptions. This means in bed, even if the child doesn't fall asleep right away.  And keep the electronics out of the bedroom so that the children don't delay their bedtime by tuning in rather than tuning out.
See on online.wsj.com