See on Scoop.it – Developmental & Behavioral Challenges in Children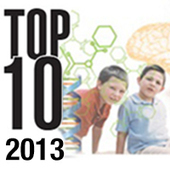 The year 2013 brought signs of a gratifying maturation in autism research. This went beyond the unmistakable increase in the sheer number of autism studies making headlines. Many of the year's m
Dr. Pat McGuire's insight:
2013 has been a great year for understanding more about why autism occurs but also what can be done to help these children and adults find avenues into working and living in our world successfully while not giving up who they are.
Let's pray and advocate that 2014 brings this knowledge to all who work with these individuals so that barriers can be removed from their being fully integrated into academics, social life, and employment. Lack of knowledge and understanding which can bring support from others is their major struggle.
Have Happy Holidays to all and a great, positive New Year.
See on www.autismspeaks.org